Construction
We provide totally CENTRALIZED CONTROL with latest microprocessor based technology, which gives easy function keys and sufficient display functions to enable the operators to work with ease
Plastic & Packaging
GCAPL has years of experience in handling industrial plastics processes and offers many solutions that contain proven technology for control loops and auto-tuning procedures.
Material Handling
It is highly integrated, and special-purpose function for crane can be realized without using PLC.
Furness & Foundry
We provide thyristor power controller which are up-graded with advanced digital technology. It may reliability and stability temperature control due to advanced digital technology.
Minerals & Cement
Rugged GCAPL solutions can optimize your Minerals & cement operation, from system design through maintenance, from quarry through packing and dispatch.
Textile
GCAPL provides integrated automation solutions for all types of textile machines, making us the ideal partner for those seeking a complete solution.
0
Years of Combine Technical Experience
Applications
Machine Automation
GCAPL has developed automated solutions for manufacturers around the Globe. Today, we positioned to provide you with the equipment, skills and resources for integrating the automated systems that can keep you ahead of the rapidly evolving global marketplace.
Process Automation
The DCS (distributed control system), which is traditionally proprietary. Process automation simplifies this with the help of sensors at thousands of spots around the plant that collect data on temperatures, pressures, flows and so on.
SCADA
Computer based Supervisory Control And Data Acquisition that can provide complete system-wide monitoring and control from a single computer workstation. Includes data logging and reporting of all system components. Alarming capabilities.
Building Management System
We design BMS system for four basic functions of a central which is Controlling, Monitoring, Optimizing and Reporting to optimize highest Energy consumption.
Machine Vision System
We offers a suite of intelligent inspection and quality assurance processes to the next level. Our learning-based technology transforms the quality assurance process by driving down operating costs, reducing risk and improving quality with unprecedented speed and accuracy.
---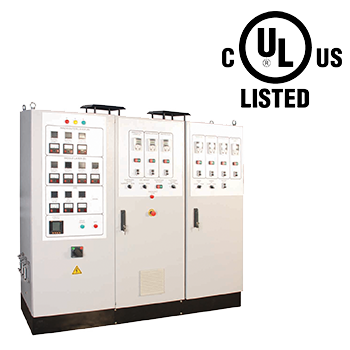 UL Listed Certified Control Panels
---